Facility Assessment & Benchmark Cost Analysis
The facility services industry is evolving at a faster pace than ever before. New technology, wireless communications and increased demand for supply chain management have created unprecedented opportunities for flexibility, quality control monitoring, increased efficiency and cost optimization at all levels of the maintenance organization. Engineered Facility Solutions can assist the Facility Manager in identifying and implementing these opportunities through our Maintenance Improvement Program. The approach has become a nationally recognized standard in the maintenance services industry and begins with four simple steps:
Assess
Plan
Implement
Verify
We use a Savings Target Model, a unique variation on other similar M&O process solutions, along with industry accepted Key Performance Indicators as tools for implementation of the maintenance improvement program.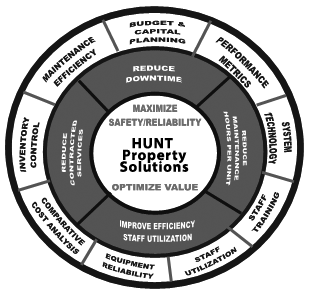 Step 1 - Assess

Our team will meet with your on-site management group and discuss the current maintenance and operations program. We will provide information on the industry's latest systems innovations, technologies, and work processes. Mutual areas of interest will be identified and an overall program objective will developed and outlined.
We will then conduct a site tour and review of the current maintenance process using our facility assessment and benchmark analysis format that generally requires input information including:
Cost Data Analysis
Production Systems Description
Staff Interviews
Department Organization & Staff Utilization
M&O Policies and Procedures
Building Condition Assessment
The data and operating information collected as part of the assessment is used to compare current maintenance practices to industrial benchmarks and best practices. The gap analysis will identify possible areas of opportunity. A work plan is developed from this information, supported by site analysis and cost data. Typically the assessment will provide output data in the following maintenance categories:
Comparative Cost Analysis
Inventory Control
Maintenance Efficiency
Plant Availability
Equipment Reliability
Staff Utilization
Training Programs
System Technologies
Performance Metrics
Budget & Capital Planning
Benchmark values and Best Practices used for the gap analysis and systems assessment include the following, industry accepted figures and categories as outlined above:

Step 2 - Plan

At the completion of the Assessment, the accuracy of the information collected and the findings of the gap analysis are reviewed with the client's management team. A work plan report and presentation of the current maintenance operations program compared to industry benchmark figures and best practices is submitted. Opportunities are presented with their respective impact potentials for improving maintenance reliability and cost.

The work plan report is developed using the following systems criteria:
Savings Potential
Implementation Cost
Cash Flow Projections
Critical Path Schedule
Step 3 - Implement

In step three, the team will prepare an implementation plan and timeline to execute the various recommendations outlined in the work plan. It is important that the on-site team is working together maintenance staff and site personnel to ensure the success of the program.

Engineered Facility Solutions will include in the implementation plan the site-specific input and recommendations of The Owner's facility management team. Preparation of the work plan, scheduling, web-based infrastructure and other back office systems may be completed off-site. The "go live" transformation may be gradual with technicians trained in the field or in classroom settings as mutually agreed upon by The Owner and HPS.
Step 4 - Verify

Monthly reports are generated to identify performance metrics and variance analysis. Key performance objectives, such as plant availability, critical equipment uptime, work order percent complete, staff and vendor utilization and cost reductions will be measured and reported to The Owner FM group.

The project leadership team will use these measurements to gauge the performance and effectiveness of the Maintenance Improvement Program on an ongoing basis.

Initial Steps
EFS will work with The Owner to initiate a Computerized Maintenance Management System. We will also provide information on related technologies such as Quality Control Monitoring Systems and Capital Planning and Asset Management tools.
When fully implemented, results will be actualized across the following area
Sample Key Performance Results
Maintenance Efficiency:
Increase on-site maintenance productivity
Increase WO Tracking and throughput
Reduce contract services and overtime
Reduce emergency and reactive maintenance
Full integration and utilization of the CMMS
Plant Availability and Equipment Reliability:
Reduce shutdown costs
Reduce shutdown duration
Extend run-time between shutdown
Improve PM & PdM effectiveness
Reduce overall maintenance costs
Improve Equipment Run Time (ERT)
Training:
Improve maintenance effectiveness
Increase opportunities for staff training
System Technologies:
CMMS is accepted and utilized as a key tool by staff
Data input is complete (PM scripts) and equipment history is available
Reports are available to management on a continuous basis
Other technologies are continuously reviewed for implementation
Maintenance, Repair and Operating Supply (MRO) Optimization:
Zero-based budgets are incorporated
M&O cost data is available seamlessly to other IT systems
Capital planning is annualized and tracked on a continuous basis
M&O procedures are standardized